We design, manufacture, install and support dredge monitoring systems and software all over the world.
Our DredgeMaster range of products help our customers to be more efficient and productive. Just ask them! Most of our work comes from word of mouth, from companies who have seen the system being used in real time and seen the benefits it has brought. learn more
Latest news
Dredge Master Product Range
Foreshore Technology provide a suite of products to cater for every stage of a dredging project, from project planning to work monitoring to reporting.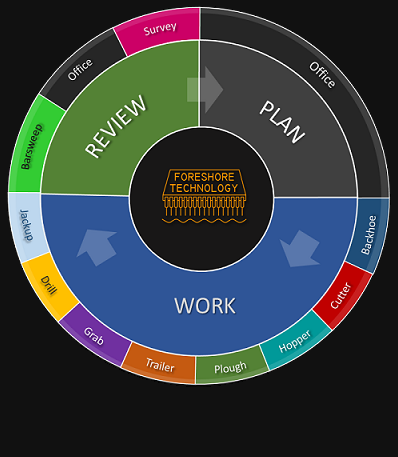 Plan
Use
Dredge Master Office
to create your projects, load survey data and drawings and configure the geodetic parameters.
Work
Share project data across all of our products. Use the real time displays and operator friendly symbols to monitor your dredging progress.
Review
Check your work using the
barsweep
or
Hydrographic survey
applications. Report on stoppages and vessel movements to prepare for client meetings.
&nbsp
Foreshore Dredging Suite

&nbsp
OFFICE Software planning tool — offline preparation — for the project manager — blend your AutoCAD charts, engineering design and bathymetry to create design templates and cutplans — production and statistical analysis — spot trends in efficiency and feedback — bench mark against multibeam survey data — replay production patterns graphically.
BACKHOE Backhoe dredge monitoring
CUTTER Cutter suction CSD dredge monitoring
TRAILER Trailer Suction Hopper Dredger TSHD dredge monitoring
GRAB Grab dredge monitoring
&nbsp
Ancillary Dredge Support Products

&nbsp
PLOUGH Manage your plough and bed levelling operations — efficiently and systematically move material to your dredges — manually set plough depths or automate.
SPLIT HOPPER Manage your disposal at sea operations — log your vessel positions — dump logs with position and time — controlled by vessel crew or black box technology.
BARSWEEP Plot and record your barsweep survey.
JACKUP Position your jackup fast and accurately so platform operations can continue efficiently with minimal disruption.
DRILL Drill complex drill patterns fast, accurately and safely
SURVEY Everything you need to perform hydrographic surveys
&nbsp
Terrestrial Systems

&nbsp
LAND BACKHOE Terrestrial version of the ground breaking dredging software.
LAND DOZER Whether in support of your dredging operations or complete standalone land work use Land Backhoe and Land Dozer to real time monitor your ground work operations.